One thing I love about having a child is being able to dress him in super cute clothes! There are so many fab clothing ranges on the market at the moment and some of my favourites are from Mothercare.
Baby K is the new collection from Myleen Klass.
"Baby K boyswear prints find inspiration from the world of retro to rock. From robots and dinosaurs to roaring bears and rock bands - all the things a boy could want! Our boyswear styling is a mix of classic cuts, fun and easy to wear pieces, with added attention to detail, as you have come to expect from Baby K over the seasons."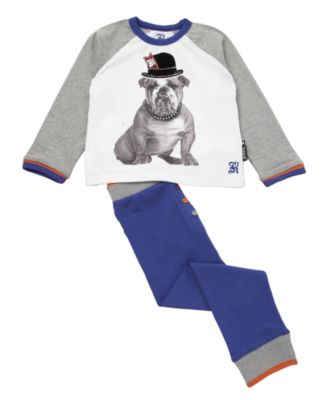 Ted was sent some lovely Baby K Bulldog Pyjama's and they are soft and cozy with a ribbed waistband and cuffs which are great for growing children. Ted's were a bit big but the cuffs meant he didn't end up with the legs dragging on the floor!
I can't get enough bedtime cuddles with him in these as he looks so sweet. I didn't want to take them off him so he did have a PJ day in them at his Nana's!

We also got Ted a very cool outfit from the Jools Oliver Little Bird range including some very navy cords which have an adjustable waistband for our fast growing boy.

You will have to excuse my excited squeals but how cute are the tiny little Y-fronts?! I will be putting these away for when Ted is potty training but we couldn't resist popping a pair over his nappy and they did look extremely cute!!



I love layering clothes in the winter so this cute check shirt looks fab over t-shirts or can be teamed up with some smart trousers for parties!


We also got a special gift for a very important little girl who will be joining us this week. Ted's God-sister who is due on Monday will be sure to look totally adorable in this Little Bird's Lamb Print set. It makes a perfect gift as it comes in a lovely little bag and is very soft and gentle on newborn skin.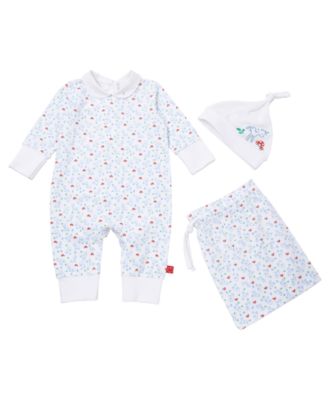 We love Mothercare and will be making sure to pop down to our nearest store in the new year to check out the sales! The staff are always so helpful and friendly and with Pixifoto and ELC now being based in store there really is everything you need for your baby essentials!
*We would like to thank Mothercare for sending us these clothes for the purpose of this review and all opinions are my own!