As part of Money Supermarkets 'Big Night In' Competition we were given £50 to show how staying in is the new going out!
I am no longer the party animal I used to be and since having Ted, Joe and I have come to realise that we would rather be at home having fun with people we care about than out drinking in the company of thousands of strangers. We love nothing more than good food, good movies and good company.
So when it came to planning our perfect night in that is exactly what we had in mind, but with a slightly gory twist!
Since my first zombie movie Night of the Living Dead when I was 15 I have been totally hooked and as soon as I saw the trailer for Warm Bodies a comedy about a zombie who falls in love with a human I knew that was the right film for our night. I got planning, putting together a pinterest board, scouring the internet for food idea's and inviting my parents, brother, sister and our best friends.
I popped to the supermarket in the morning, shopping list and my budget in hand and brought our post apocalyptic rations. These consisted of...
Not forgetting our movie of choice, all of this came in at £48.65.
All of these fairly basic party ingredients were to become our Zombie feast. We had intestines, eyeballs and hands complete with blood and pus all washed down with green zombie punch!
It felt slightly strange throwing what to most people would appear as a Halloween party in the middle of the summer but I have always wanted to try some of these recipes and thought this was my chance. With the planning done and Ted in bed the night got started!
Our Menu
Zombie Punch and Eyeballs
Limeade
Blackcurrant Squash
Lychee's
Take your cups of limeade and drop 2 lychee eyeballs in the bottom of each cup, add a little blackcurrant squash to make the punch or leave as it is for a bright green drink.
Intestine Tear and Scare Bread
3x Pizza Dough Mix
Cheddar
Mozzarella
Tomato Puree
Dried Herbs
Make up the Pizza Dough as instructed on the packet.
Roll out to about 1/2cm thick and spread with tomato puree and dried herbs. Sprinkle over grated cheddar and cut the dough into 2 inch wide strips.
Take the mozzarella and cut into batons. Lay these along the length of each of your strips and roll the dough around it to make long intestines, wiggle them into your metal baking tray and bake as on the instructions.
Hot Dog Guts
Hot Dogs
Rolls
Ketchup
American Mustard
Cut your hot dogs length ways into 3 strips. Boil them as instructed on the packet and serve in the rolls with ketchup and mustard for blood and pus! Gross but very yummy!
Carrot Fingers
Carrots topped with almond slices for finger nails and laid out in your chosen dip to make a hand.
Popcorn Hands
Fill your rubber gloves with popcorn. A perfect spooky treat for the movie!
*Be sure to get gloves without that horrible powder in otherwise the popcorn won't be able to be eaten!
I finished off the table with gummy fangs, strawberry laces and some nacho's.
We all settled down to watch Warm Bodies and it proved to be a great movie. It was really funny and was great to see things from a Zombies perspective! Nicholas Hoult plays a zombie well and we were impressed with his american accent.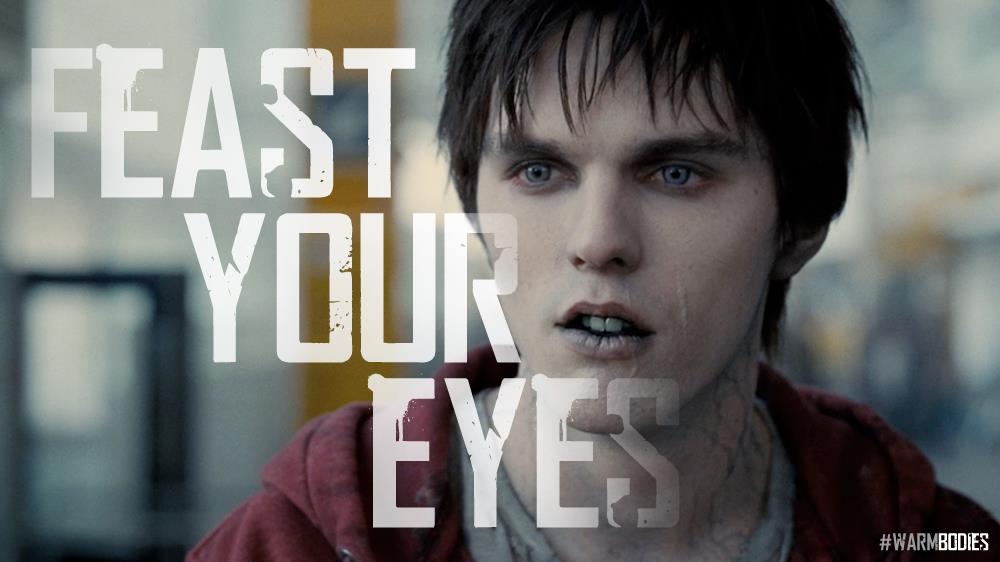 At the end of the night I tried to stop my guests turning into zombie's by sending them home with their Zombie Vaccine (TicTac's in resealable bags).
Unfortunately my sister didn't take her pills in time and we had a walker on our hands!
Zombie Sister! AHHH!
We had a fantastic night and everyone was surprised as how much fun we had for £50. We managed to feed 10 people with plenty to eat, brought a movie to add to our collection and saved £20 at least not paying for a babysitter!
Remember if you decide to hold a party at home to make sure your contents are insured. There are some more tips on the Money Supermarket website.
This was my entry for the Money Supermarket Big Night In Competition.